Jazzing up Ubuntu: conky, gaia, emerald, oh my!
Dec 21st, 2010 | By
admin
| Category:
Linux / Freebsd
I had a link to this page sent to me the other day: http://lifehacker.com/5651352/the-gaia-10-linux-desktop and one glimpse at that pretty desktop got me all tingly inside so I went to work trying to install.  Much to my dismay the installation process was far from straight forward, infact the gaia10.us website mentioned in this post is virtually all for Windows.  More than a little frustrating after you download everything and go through all of the files searching for something that my operating system could use.  But then again, it's only in the true spirit of linux that jokers like the author of that original post would post something like that, tell you how great it is and then leave no explanation of how to do it.  I suppose, it's part of the appeal of the OS of making everything a learning process but for the pretty shiny stuff I wouldn't mind that being easy.  When it comes to tweaking my file system, or pulse audio or anything technical I love digging around for info, but when it comes to the pretty shiny stuff, give me a break and throw us a bone.
So to make up for the oversight of that post I'll go through everything you need to know to get your Ubuntu desktop looking just like how it looks in that picture.
Sprout Theme
Custom Pidgin / Empathy iconset
So the next thing we encounter is the pidgin icon set.  Now I use a combination of empathy and aMsn myself and I started writing a rather lengthy tutorial on customizing Empathy with the Gaia theme however it
Empathy
AWN ( The App Dock )
Conky:
Conky was mentioned here with special individual configs(isn't that special?), but from the screenshoot I really can't tell what those configs were or if Conky is even running in that screen.  So I'm kind of flying blind here.. Either way, Conky is a system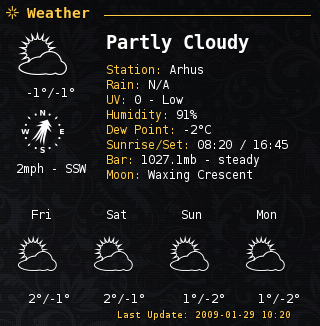 resource meter/tool to give you a nice HUD of usage meters, bandwidth, temps, music, etc etc. There are a ton of different configs you can pull into it so that's kind of up to your discretion at the end of the day
Conky definitely takes some fiddling with but at the end of the day it looks pretty damn cool and is worth going through some of those designs.  I don't have it where I want it quite yet but that is one of the things I love about using linux and that is that it is always an evolving work in progress.  Evolving as you evolve, never remaining static and forcing you to constantly learn.
Reference Material:
http://lassekongo83.deviantart.com/art/GAIA-Sprout-179554275?q=gallery:lassekongo83/21163&qo=2
http://www.hackourlife.com/install-compiz-fusion-and-emerald-in-ubuntu-10-04-lucid-lynx/
http://ubuntuforums.org/showthread.php?t=1297237
http://www.webupd8.org/2009/06/25-great-looking-compiz-emerald-themes.html